Description
OUR 45% OFF JUNE SALE ENDS AT MIDNIGHT
NO MORE RESERVATIONS | LIMITED STOCK
#1 Grey Goodies Makeup And Cosmetics Fridge -
Grey Goodies Makeup Fridge is the most functional glamorous addition to any bathroom or vanity. Keep your makeup products fresher for longer and experience a delightfully cool facial jade roller. Treat yourself – you deserve it!
Keep all your makeup products cool and maintain their shelf life and consistency. Alternatively, use the warming feature to warm up hard lotions.
Use to cool your everything in your skin routine from makeup and moisturizers, to serums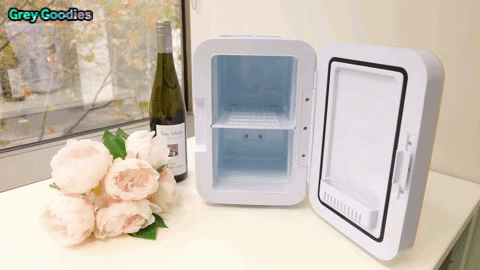 How Beneficial Is This To Me ?
Most skin care products have less preservatives, which causes products to expire a lot quicker. The active Ingredients will no longer benefit your skin, so refridgerating your product helps prolong the product's shelf life but cold products also help reduce puffiness.
It is also perfect for on the go, so your products dont have to be on the refridgerator downstairs, its portable and has a handle which allows you take it with you wherever you're going.
This delivers a quite 30db sound and environmental Friendly cooling using mush less energy than your home traditional refridgerator.
Applying cold products helps to temporarily reduce facial puffiness, under-eye bags and tighten the look of pores – giving you the ultimate glow!
Great for storing your moisturizers, serums, jade rollers & more!
Compact Storage & Convenient to use Pamper yourself with a refreshingly cool routine in the comfort of your own bathroom without sacrificing counter space
FEATURES AND DIMENSIONS
Grey Goodies Makeup Fridge features 2 shelves for your makeup, creams and Jade rollers.
Design

A stunning gloss finish means Makeup Fridge looks perfect in any home.
Our magnetic door handle ensures convenience of use while securely keeping your items in place, with a handle on top so you can carry it anywhere you wish!
Technology

MakeupFridge uses thermoelectric power, circulating your choice of cold/hot air through a small electric fan.
This delivers a quiet 30Db sound & environmentally friendly cooling, whilst using much less energy compared to your traditional refrigerator.
Temperature
Makeup Fridge can cool down to 40ºF-45ºF or heat up to 122ºF-144ºF (50°C to 62°C) with the ease of a switch.
Size
Outside dimensions: 7" x 9" x 9.9" (Width, Depth, Height)
17 x 22 x 25cm
Inside dimensions: (5" x 5.5" x 8") (Width, Depth, Height)
12.7 x 14 x 20cm
WHAT CUSTOMERS HAVE TO SAY
Benefits of Grey goodies make up fridge are endless. Tighten pores, calm angry breakouts and reduce facial puffiness - experience the difference of cold skincare.
"... The item came in perfect condition. It cools all of my Skin Care, Makeup, and Fragrances to the perfect temperature. It is a nice size as well. It can have one medium shelf with two small shelves, one large shelf with one small shelf, or one extra long shelf for those items that are really tall that needs to be cooled"
GIFTS FOR YOURSELF | GIFTS FOR HER
This is the perfect gift idea for birthdays, christmas and any other special event going on in your life!
FREQUENTLY ASKED QUESTIONS
General Questions
Benefits of refridgerating Skincare ?
Great question! Nowadays most skincare products are featuring less preservatives & this can cause products to oxidize and become less potent much more quickly. That $200 serum you now bought has to be used up quickly or else the active ingredients will work less effectively on your skin.
Refrigerating certain natural products can help to prolong their shelf-life and when cold products are applied to the skin, it can help to temporarily reduce facial puffiness. Plus, who doesn't love a cold facial roller, am I right?
Why can't I use my own fridge?
We wanted to create a convenient & hygienic solution for those who actively wanted to use cold products as part of their daily routine. No more running downstairs to get your serums or storing your products next your guacamole.
Returns
Returns are made to our local warehouse. We have warehouse in every continent.
What is your return policy ?
We want you to absolutely love our makeup and cosmetics fridge. If you're not satisfied with your purchase please e-mail support@greygoodies.com within 14 days with your order number so we can send you instructions on how to make a return. Product must be in original packaging and accessories must be un-opened to be eligible for a return.
My order arrived damaged, help!
Please reach out to support@greygoodies.com with your order number. if you received a faulty, damaged or incorrect order so we can help make it right.
Shipping and Order Confirmation
Delivery is £2.99 | $3 for standard delivery and £5 | $6 for Express delivery.
Can you deliver to PO Box ?
We unfortunately do not ship to PO boxes at this time.
Extra Information